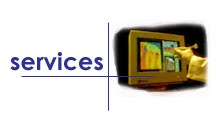 § Electrodiagnostic Medicine

° Electromyography (Needle EMG)

° Nerve Conduction Velocity (NCV) Studies

§ Vasular Doppler Ultrasounds

° Venous and/or Arterial

§ General Ultrasounds

° Abdominal (Small Parts), Thyroid, etc.

§ Musculoskeletal Ultrasounds

° Extremity/Joints, Neck and/or Low Back

EMG/NCV studies and diagnostic ultrasounds are American Medical Association-approved procedures that have been utilized by a majority of treating physicians to assess nerve and/or muscular disorders.

TESTING LOCATIONS

For patient convenience, MDS offers testing at our facility in Huntington Beach or at the treating physician's facility/office, whatever is most convenient and appropriate for the patient and medical staff.

SCHEDULING AN APPOINTMENT

Patients usually are scheduled for EMG/NCV studies and diagnostic ultrasounds through their treating physicians. If you are a patient, please schedule a testing appointment through your practitioner. If you are a practitioner, please contact us to schedule testing for your patients.

PAYMENT

Most insurance plans will cover NCV/EMG testing and radiology services. We perform testing for PPO, Worker Compensation, and Personal Injury patients.